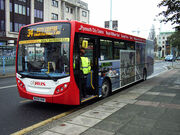 A Bus (occasionally referred to as: Omnibus, Autobus and Multibus) is a large capacity road vehicle used to transport passengers between places. Coaches, Double Decker and Articulated (bendy) Buses are used when larger capacity transport is required.
Buses come in various types, the most common being the medium sized Single - Deck bus which can carry a large amount of passengers between locations in a town or from a village to a town.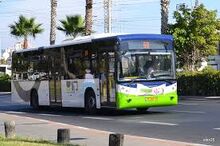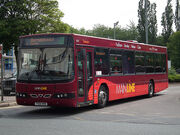 Ad blocker interference detected!
Wikia is a free-to-use site that makes money from advertising. We have a modified experience for viewers using ad blockers

Wikia is not accessible if you've made further modifications. Remove the custom ad blocker rule(s) and the page will load as expected.